Direct thermal / Direct Transfer printers need regular love and care for good performance.
A poorly maintained and neglected printer can suffer from early failures and poor printouts due to accumulated debris or dust from the print media or the environment.
Taking good care of your printer will ensure your printouts are of high quality on your desired media. 
Follow these simple guidelines to maintain your print quality and lifetime of your thermal printer.
Take Care of Print Heads & Rollers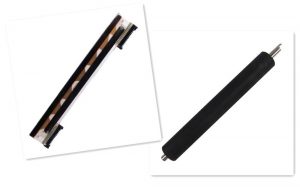 You should check the print heads and rollers typically after going through an entire roll of media or ribbon
If they are dirty, it is time to give them some love and care.
Firstly, switch off your print before doing any inspection or cleaning. Avoid touching the print heads with your bare heads.
Use a swab or lint-free cloth with small amounts of rubbing alcohol (Isopropyl alcohol).
Apply gentle pressure to clean off any debris or dust on the print head or platen roller. 
Clean the external housing with a moist cloth and clean the inner housing with compressed air or vacuum.
Allow all parts to dry fully before resuming cleaning.
Monitor Print Settings
Your printer has settings that allows you to adjust the "Darkness" and "Speed" of your printouts. To lengthen the lifespan of your printer, operate on a conservative setting that allows you to produce quality printouts without stressing your print heads with excessive "Darkness" and "Speed" settings.
Pick the Right Media
Choosing quality labels and print media greatly extends the lifespan of your printer. Cheap media can cause dust or debris build up and damage printer elements.
Overall, we hope this helps enhance the life of your printer.
You can count on us to provide you with high quality products and services for your printer.
Contact our support team if you ever have any questions.