Carousell's bid to generate revenue!
Our favorite Carousell app has finally implemented a spanking new feature just near the start of May 2017.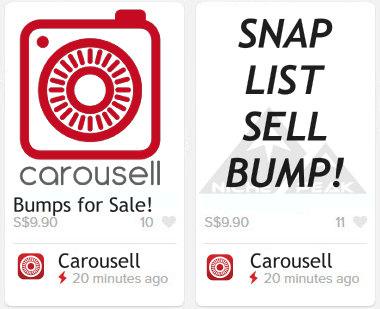 "Bumps" as they like to call it; helps push your listing up to the top of the marketplace, thereby giving it more visibility, and possibly more sales. It comes at a little cost (about 1 dollar per day for the 3-day Bump), though there are free options available.
Most people can see this little feature as a way for Carousell to sustain itself through monetizing their in-app service. We think it is a good start for a well-polished app that has been gradually building up for years now. 
However, let us dive deeper to uncover what "Bumps" is all about and perhaps evaluate it further to see where it leads us. Time to go tinkering in the app!
HURRAY to blocking re-listings
In view of this new "Bumps" feature, the Carousell team has implemented a new blocking algorithm in the app to prevent users from putting up another similar listing. You can see it in action below.
This is an important and a much-needed feature as these illegitimate bumps are a direct competitor to the official "Bumps" that is in place. Prior to this, users have to report spammers and thereafter the admins have to take action. This is all too time-consuming. So kudos to the Carousell team for coming up with the new blocking algorithm!
Humans Vs Machines
But how effective is this system, you ask? Who comes out on top? Well, we have been doing some controlled tests, coupled with our keen observation of the marketplace. Here is what we have seen:
Legitimate variants of a product can be wrongly blocked.
Specifically, if your title, description, images are very similar, there is a chance it might be blocked even if they are essentially different variants of a product. This can be quite frustrating for people as currently there is no way to return back to edit after you hit the "Sell" button.
Perhaps the Carousell team can consider a friendlier option as it's quite frustrating to start from scratch and figure out what's wrong.
Some users have found the loophole in the blocking algorithm
From our observations, they do this by carefully changing just one variable (title, description, images) to essentially get a relist of essentially the same item.
Dropping price to get free "Bumps" every 7 days.
While this is a legitimate way to bump up your listing, the 10% price dropping mechanism does not really work. Users can simply bring the price back up after getting the free "Bumps" and the "Bumps" is still in place. Perhaps the Carousell team can improve the algorithm to factor in this.
The War on Re-listings a.k.a. illegitimate "Bumps"
It is quite clear how these illegitimate "bumps" can undermine Carousell's brand new "Bumps" feature. Legitimate sellers might see no reason to purchase paid "Bumps" if their competitors can keep relisting for free by circumventing the blocking algorithm.
Hence, it would be interesting to see how the Carousell team tackles illegitimate bumps and users trying their luck to circumvent the new blocking algorithm. Perhaps improving the blocking algorithm and taking harsher actions against users who consistently flout the rules despite warning?
Final Thoughts
To be fair, a shiny new feature always comes with some specks of imperfection here and there. We certainly hope the Carousell team will resolve these issues over time. But it is really great to see a new system in place that makes the marketplace more friendly and usable for all.
For now, it would be interesting to speculate the direction "Bumps" will take in the future. We suspect they might even offer a permanent "Bumps" that will stay on top of the marketplace for a premium price.
What is your take on Carousell's new "Bumps" feature? Any interesting observations? Feel free to share your comments below.