Food & Beverage Point of Sale POS System in Singapore
Intuitive and easy to use point of sale POS system to manage your Food & Beverage F&B Business, e.g. cafe, coffee shop in Singapore!
Smooth Order Management
Service staff can easily receive and manage orders with Open tickets.
Assign tickets to tables in your business in one click with the predefined tickets.
Manage open tickets by splitting, merging, and moving items between tickets.
Assign tickets to different service staff.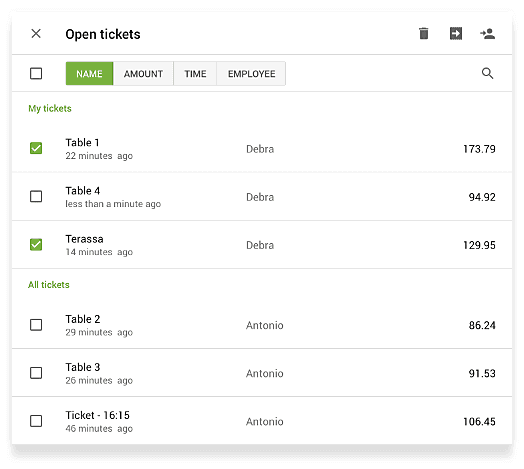 Organize sales to match your needs
Customize your menu, bring popular items to the first screen.
Organize items and categories on separate pages, such as coffee, cakes, fruits etc.
Add toppings and add-ons to the items in one click by using modifiers.
Create different dining options, such as "Dine in", "Take out", "Delivery", etc.
Apply discounts and taxes, and make notes to the items or to the orders.
Attract your customers come back
Give your customers full control on their orders through a digital display showing the sale process.
Motivate customers to visit your cafe again by rewarding them with bonus points with a loyalty program .
Build personal engagement with your customers and turn them into constant visitors of your coffee shop by rewarding each purchases.
Remember each client's personal preferences by making notes in the system.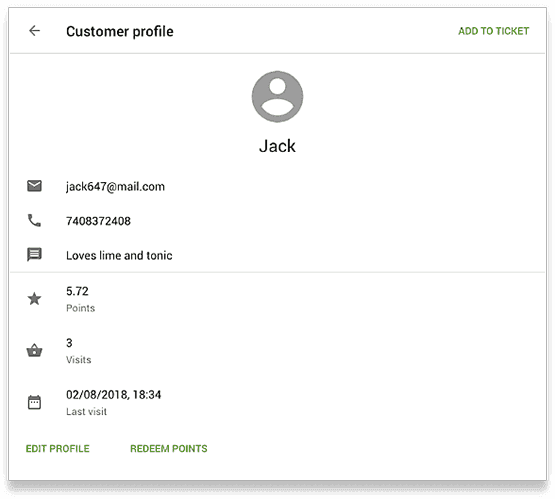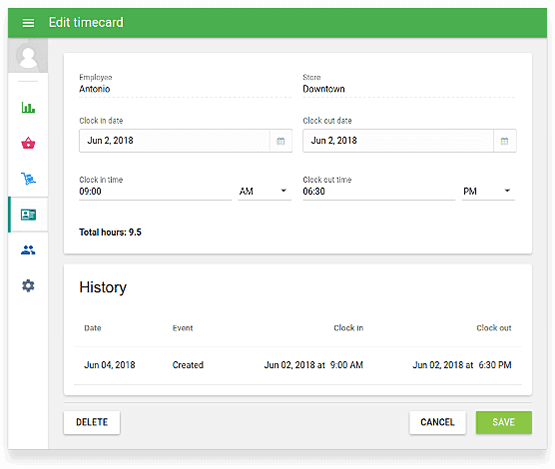 Manage your employees & staff
Track each employee's sales performance and make informed business decisions.
Information on the workload per hour allows for efficient management of your staff.
Manage employee access to sensitive information and functions.
Employees can clock in/out and the system calculates their total hours.
Identify any cash discrepancy at the end of the shift and track employees' inaccuracy or manipulations.
Send orders to the kitchen immediately for fulfillment
Get orders to the kitchen faster and with fewer errors by using kitchen displays or printers.
Items, quantities, modifiers, item and ticket comments will all appear on the kitchen orders with display or printer.
Create as many kitchen stations as you need.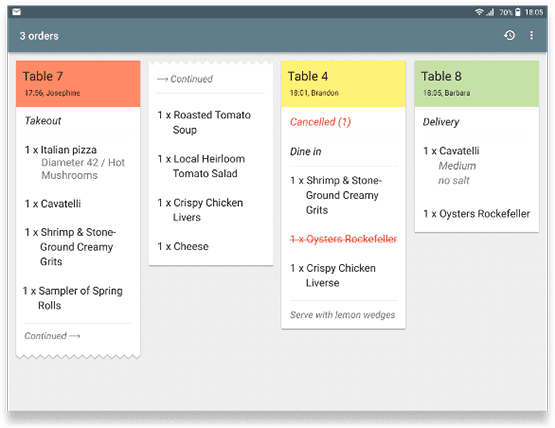 Pair any number of kitchen displays and printers with any number of POS devices

Scale your business infinitely
Manage multiple cafes or coffee shop chains under one account.
Track your sales, inventory, employees, and customers — everything you need to know in one place .
Track the sales growth or decline compared with the previous day, week, or month, and promptly react to changes.
Sales by item analytics allow the best-selling items to be determined and therefore, the right purchasing decisions can be made.
Manage your inventory and stock
Quickly fill up your stock with fresh products with purchase orders.
Manage stock of produced items and ingredients with the production of composite items.
Transfer goods between physical locations.
Keep your stock always accurate by performing counting and stock correction in the Advanced Inventory Software .
24/7 Software Support
for Food & Beverage Point of Sale POS System in Singapore!
Try out our Food & Beverage Point of Sale POS System in Singapore Today!
[contact-form to="sales@nichepeak.com" subject="POS Lead"][contact-field label="Name" type="name" required="1″][contact-field label="Mobile Number" type="text" required="1″][contact-field label="Email" type="email" required="1″][contact-field label="Message" type="textarea"][/contact-form]